ABOUT
US
Destination Wedding Italy
Amore Wedding Italy is an Italian Wedding Agency founded by Kathrine Brenne, which organises fairytale weddings in the most beautiful locations and places in Italy.
We are a young and dynamic team, with very high professionalism and extensive experience in the planning of small and large events, which allows us to create unique and unforgettable events, customised according to the requests and needs of the couple.
KATHRINE
BRENNE
Event & Wedding Planner in Italy
I'm Kathrine Brenne. I'm Norwegian, and I was born and raised not far from Oslo, Norway, the city where I studied and graduated in Marketing & Logistics from the BI Norwegian Business School. I then went on to specialise at Berkeley University of California in San Francisco. During my university years, I complemented my studies by working at Christiania Glasmagasin (one of Norway's principal wedding list shops), and it is perhaps in this period – whilst helping couples find inspiration among the various glasses, dishes, colours and shapes, and after attending BRYLLUPSMESSEN (the main Norwegian wedding fair) many times for work – that I realised that I really wanted to work in contact with love.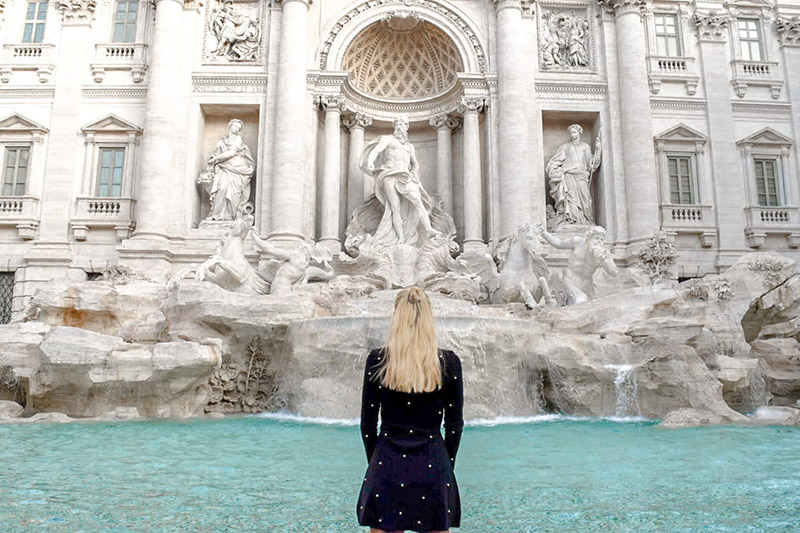 And where might a girl in love with love end up? …in Italy! So in 2013, I packed my bags and moved to the centre of Rome, to a small, typical apartment just a few steps from the Pantheon. Do you know that the word ROMA (ROME) read backwards is AMOR (which means LOVE)? And so, I was truly in the city of love.
You know Julia Roberts in the movie Eat, Pray, LOVE? That might as well be me!! Here I started to study Italian, and I was completely enraptured by Italy – the climate, the scents, the flavours… above all the flavours!!
Love is truly in the air here, and observing the couples in love walking hand in hand along the streets of Rome, or throwing a coin into the Trevi Fountain, I became even more convinced that I wanted to work in contact with love every day, and that is how my Wedding Planner business saw the light of day.
For me, every project is unique and special, and from the first contact with the bride and groom, I immediately try to get in tune with their dreams and desires, concerning the planning of one of the most beautiful and important days of their lives, accompanying and advising them in every little and big choice they make before their big day, to ensure that the planning is a serene and stress-free experience.
By the way, I too have found my great Italian love, and I live with him in Tivoli, (just 20 minutes from Rome), a beautiful city, rich in history, art and culture. If you don't know it, click on the Destination Wedding page, in order to discover this and some of the other most beautiful places in Italy where you can organise your wedding. For any further information, do not hesitate to contact me.